Hydrostatic Pressure is the the actual pressure of water forced against the exterior of a basement floor or wall. Water can be present in the soil by means of a high water table, underground stream and capillarity.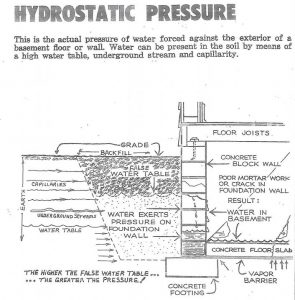 Get Eco-Dry Waterproofing Working for You!
Don't wait till the next storm leaves water, mold and mildew in your leaky basement. Call us to schedule a free expert consultation today! Feel free to fill out the contact form below to book an appointment with us.
Contact us today for a free quote!
Eco-Dry Waterproofing covers all of Northern NJ including Sussex, Morris, Warren, Passaic, Essex, Union and Bergen Counties. We backup our work with a Lifetime Dry Basement Guarantee. Financing Available (0% Financing Option. Pre-approval in 60 seconds).