Interior Drainage Systems / French Drains
This involves trenching the interior floor along the perimeter walls and installing a pressure relief water management system of pipe and stone commonly known as french drains. Each system is custom designed to solve the present issues and relieve the excess water from around and under your foundation. Many of these systems include sump pumps with battery backups, mold treatments, and humidity or ventilation machines.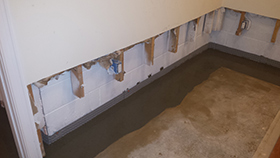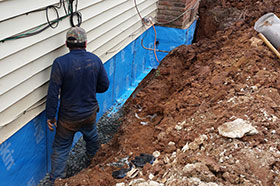 Exterior Drainage Systems
This involves excavating outside the foundation walls. By installing perforated pipes at the bottom of a gravel filled trench, around the perimeter of the house, water can travel a safe distance away from the house to keep your basement dry. The process always includes the application of a (3) layer waterproofing barrier to the walls to prevent water penetration. This system may also include a sump pump with battery backup.
Mold Remediation and Abatement
This involves containing work area to prevent any cross contamination and removal of any mold infested materials from the property, then performing a three-step process to eradicate existing mold and prevent it's return.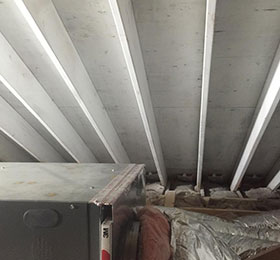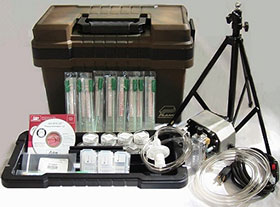 Although testing alone will not predict or resolve the mold issues, but it can be an important starting point. The types of mold testing offered are; air, swabs, tape lifts, and bulk samples. Usually a combination of these is best for a comprehensive evaluation. All samples are sent to a third party independent laboratory and their findings are emailed in a full lab report.
Foundation Cracks and Structural Repairs
The foundation and its structural integrity is the heart of a home, and when it is compromised the value of that property is greatly depreciated. Each issue is evaluated to see what the best solution will be. For the most part, addressing these types of problems in the early stages yields the best results and may save $1,000s-$10,000s in further damage.
Some types of repairs we perform are:
Carbon Fiber Reinforcement, Steel I-Beams, Footing Underpins, Lally Columns, Wall Pins, and Epoxy Injection.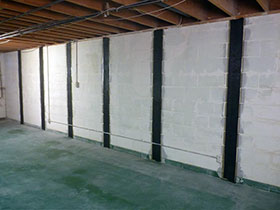 Foundation Rebuilds
Post Hole & Seal
Installations

Catch Basins (ideal for yards with pooled water)
Surface Drains
Underground Discharge
Crawlspace Liners (moisure barrier in crawl spaces)
Contact us today for a free quote!
Eco-Dry Waterproofing covers all of Northern NJ including Sussex, Morris, Warren, Passaic, Essex, Union and Bergen Counties. We backup our work with a Lifetime Dry Basement Guarantee.