It's The Water You Can't See That Can
Destroy Your Foundation.
Pitch or tars used to waterproof exterior walls at the time of original construction often deteriorate in 3 to 5 years leaving the walls unprotected against the tremendous hydro-static pressure of a high water table, underground streams and capillarity. An excess of water around footings may undermine them causing damaging settlement of the foundation.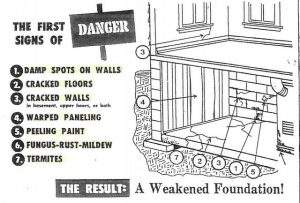 The First Signs of Danger:
Damp spots on your floor and wall.
Cracked Floors.
Cracked Walls.
Warped Paneling.
Peeling paint
Fungus-Rust-Mildew
Termites
Contact us today for a free quote!
Eco-Dry Waterproofing covers all of Northern NJ including Sussex, Morris, Warren, Passaic, Essex, Union and Bergen Counties. We backup our work with a Lifetime Dry Basement Guarantee. Financing Available (0% Financing Option. Pre-approval in 60 seconds).